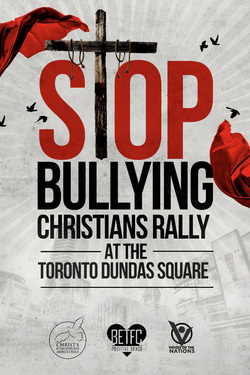 Stop Bullying Christian Rally: Saturday November 21st, 2015 @1pm
As you may have already heard, the Canadian Christian Community has recently had their rights violated by City of Toronto officials who said they can not express themselves in a Public Square. It is time that we as Canadians take a stand and together say:
STOP BULLYING CHRISTIANS NOW!
On Saturday November 21st, 2015@1pm, the Christian Community will standing together in a peaceful protest to declare that marginalizing and discriminating against Christians on public property is wrong regardless if they are expressing their Spiritual Orientation and beliefs in word and/or song. We will be standing together with one voice to put a STOP to the bullying of CHRISTIANS NOW in both North America and Around the World.
We will be singing the national Anthem, Reading the United Nations and Canadian Charter, Singing a few Christian Songs with Jesus's name and the Christian Message in it, having a Christian Prayer of repentance, and a march from Yonge and Dundas to City Hall and back.
Christians deserve as much dignity and respect as anyone else in public spaces to market, express, or sing about the faith they hold dear. The Universal Declaration of Human Rights and the Canadian Charter of Freedoms and Rights support the rights of Christians. 40,000 signatures have already been handed into the Mayor's office and they continue to refuse the Christian Community to hold future Christian events at the City of Toronto's publically owned venues.
Let's Stand together for this worthwhile cause. Here is the Official Press Release for the Stop Bullying Christians Rally:
http://eepurl.com/bF4C6j
Recent Media support for the rally:
https://www.lifesitenews.com/news/toronto-rally-to-support-group-banned-for-singing-about-jesus-planned-for-n
---