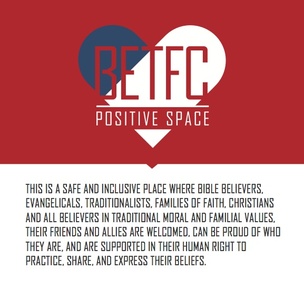 Create Christian Positive Space!
One proactive measure to raise awareness of discrimination towards the BETFC community as well as address and reduce
Christophobia
is to make Christian Positive Space at work, on streets, universities, colleges, highschool, in news publications, in the media, and wherever you go. Below, we have listed some ways you can support this important mission.
WHAT TO DO-
The following are suggested steps to take in order to create visibility and generate inclusiveness of the BETFC community at your work or school:
Pray and Repent of your own Sin and Seek the Lord!

Get Christian Positive Space Stickers or T-Shirts to wear or pass around to friends, church members, co-workers

Help Spread the Word everywhere through social media (Facebook, youtube), businesses, schools, and churches

Form/Help form a Christian Positive Space Committee at your school, work or club (Email for assistance)

---