FREQUENTLY ASKED QUESTIONS
:
People have many questions about Christian Positive Space. We have put together some response to some of the most frequently asked questions. We are happy to speak with you and support your efforts towards creating Christian Positive Space in our globe. Please contact us for answers or questions
by email
or by phone at 647-773-3276 during regular business hours.
What are the objectives of the Christian Positive Space campaign?

The Christian Positive Space Campaign is intended to help create a world is free of discrimination on the basis of the Christian faith and to share the loving gospel of God to all people. It also aims to generate a broad and visible commitment to welcoming the BETFC community and at making talk of the Christian faith and the Bible less unusual, more open and increasingly welcomed.
Why single out this among other equity issues?
There are a variety of equity issues that call for public discussion and political support. One distinctive result of marginalization based on Traditional Values and the Christian faith is that many Traditionalist Christians walk on eggshells in the work place and in social environments and remain closeted. They are growing up in even increasing environments that are hostile to Traditional values, the Bible, Faith, and Christianity and they often expect negative views, unless given a strong indication to the contrary. In other words, the ways that Traditionalist Christians are marginalized makes this the kind of campaign where focusing on visibility is an appropriate response. Highlighting the BETFC community as distinct from other equity issues works against the silence that otherwise is permeating our culture all too often.
Do I assume that offices and rooms without 'Christian Positive Space' stickers are not positively disposed to the BETFC community?
We do not assume. Some people have not heard of the Campaign. Others may feel positively about the campaign but may not have control over what does or does not get posted on doors. Others may be supportive but not quiet comfortable or assured in speaking about the rights and freedoms of the BETFC community. Still others may simply not be in the habit of putting stickers or posters on their doors. However, if there are stickers supporting the rights of other communities and when asked to place one for the BETFC community, they refuse to place it up as well, then it is taken as if the business does not understand or support the campaign.
---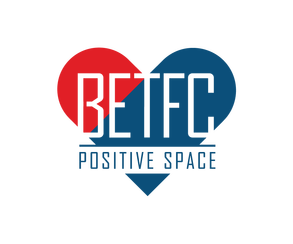 If I post a sticker on my door, does that mean I should be ready to offer counselling or advice?

Posting a sticker means that you are supportive of the Christian Positive Space Campaign, not that you are volunteering to be a Pastor or expert on rights and freedoms. If you find yourself in discussion with someone who seems to need Pastoral assistance beyond that which you can provide, you should not hesitate to suggest that they visit or call one of the Christian Positive Space Pastors and Leaders. You can certainly offer whatever advice you feel qualified to offer, but be attentive to the possibility that such issues will entail deep-seated feelings that may well benefit from a Pastor, Evangelist, or Leader.

Will a sticker on my door make people think I'm a member of the BETFC community?

One of the goals of this campaign is to make that question irrelevant. BETFC people are being encouraged to take up these issues whereever they go and to do so in greater and more visible numbers. Some people still assume that those who speak supportively of the BETFC community may be themselves be members of the BETFC community. This campaign asks people to think about why such labels make people uneasy. The thought of being considered "different" in some way is still a significant concern for many, evoking discomfort and fear. The Christian Positive Space Campaign seeks to challenge that.

What can a sticker do?
By placing a sticker on your door or office, people will be bound to ask "What does BETFC Positive Space mean?". You will have an opportunity to discuss your Christian faith as well as the values of the Bible. You will encourage the promotion of the gospel and Christian values within the culture. You will be uniting the body of Christ in a way that has not been done before. You will be encouraging financial success and advancement for businesses that support the rights and freedoms of Christians. You will encourage governments, banks and businesses to support the Christian community. As well, you will be visibly reclaiming a generation to the faith of Jesus Christ through the posting of stickers upon places that desire it to be placed there.

Is the BETFC campaign a hate campaign against the LGBT community?

Absolutely not! The BETFC community does not hate anyone nor support condemnation of any person. It especially does not hate members of the LGBT community. How could it when Jesus said, "For God so loved the world that he gave his one and only Son that whosoever believes in him should not perish but have eternal life" (John 3:16). Members of the BETFC community do not promote hate in any way. Rather, it preaches love for all people and encourages all to repent and accept the gospel of Jesus Christ for the spiritual and intellectual renewal of the mind, soul, and spirit and the receipt of God's eternal life. This campaign is to uphold the rights and freedoms of the BETFC community so that they can believe and propogate Traditional morals and values. It is also to ensure that children will not be forced to learn things in school that undermine their traditional morals and values. It will also ensure that Christians can practice and promote the Christian faith and teachings of the Bible in pride without fear.

Many who were members of the LGBT community have become part of the BETFC community and were welcomed with joy and open arms. Like a spouse who leaves one family to join and form another, these former members of the LGBT community have found new hope and a new lifestyle in the BETFC community and are very happy. All people are welcome into the BETFC community to be transformed by the renewal of their mind through the atoning blood and life changing message of the gospel of Jesus Christ. While the BETFC community does not agree with or condone many of the lifestyle choices of the LGBT community and calls for a change of mind and heart towards some of their beliefs, it doesn't close the door of hope so as to condemn the individuals within the community. Rather the hope of the gospel is offered to the LGBT community as it is to all people with all forms of inclinations and personal struggles.

This is no different from any community or the LGBT community. The LGBT community does not agree with many beliefs, practices, and choices of the BETFC community. It is true that many things have happened in the past that have blurred the message of the gospel. However, in recent years, both openly and indirectly, the LGBT community has increasingly called upon the BETFC community to repent of their beliefs and values. At times, members of the LGBT community have forced their values and opinions on the BETFC community and their children through government enforced legislature and have been instrumental in blocking and/or negatively branding BETFC's Traditional opinions in the media and airwaves. Many (not all) members of the LGBT community have even called upon the BETFC community to abandon the Bible, their faith or have even called for the BETFC community to reinterpret the Bible, remove portions of it, or change it. In extreme cases, the LGBT has assaulted, threatened, and bullied members of the BETFC community. Many members of the LGBT community have urged the BETFC community to abandon their faith. This can be viewed as and is judgemental, bigoted, hateful, and condeming. These are forms of Christophobia and Biblephobia. Regardless of the muddied past, this campaign is simply a rights campaign for the BETFC community. Regardless of how people view the BETFC community, the BETFC community condemns no one but calls all people to the hope of Jesus Christ through repentance and grace. The BETFC campaign hopes that dignity and respect is shown towards the BETFC community.

Isnt a Christian Rights Campaign unbiblical and unChristian?

No! Rather there are countless of examples within scripture and church history where believers made use of secular rights and freedoms codes or government officials to ensure the survival of their faith. Standing upon rights and freedoms code's given by governments is very different from revolting against God's medium for punishment due to our own sin and rebellion. Would we assume that every persecuted Christian minority group in the world is a result of their sin or if (according to his will) is there a point where God will one day raise up visionaries, officials, and rights advocates to alleviate their oppression?

The story of Esther is a clear example of a woman who used her political position and relationship with the Governor to stand up to the unjust legislation made to ban and remove Biblical beliefs and their practitioners from the culture. She campaigned within the Bible community for prayer and unity while at the same time she appealed to the governor to ensure that they could practice their customs and beliefs without fear (Holy Bible, Esther). It is clear that God raised up Esther and Mordecai with this vision to ensure the survival of the Biblical faith; and in action, Esther called upon God to save them.

God raised up the Apostle Paul to share the gospel as far as Rome and endowed him with wisdom to make use of Roman Law. When the apostle Paul's rights were violated and the spreading of the gospel was about to be quenched by his death, he appealed to Roman law as a Roman Citizen for equity (Acts 16:37-39;22:25-30;23:26-28;25:11-12;28;19). Paul makes it clear that he was "compelled to make an appeal to Caesar", due to the Jews unjust behavior (Acts 28:19). Paul bases the legitimacy of his case upon Roman Rights and Freedom's Legislation by saying, "I am now standing before Caesar's court, where I ought to be tried. I have not done any wrong to the Jews...But if the charges brought against me by these Jews are not true, no one has the right to hand me over to them. I appeal to Caesar!" (Acts 25:10-12). It wasnt that Paul was no longer trusting God. He was. In wisdom, he was making use of what God has already given him: His legal rights as a Roman Citizen. It is foolish to not make use of what God has already granted his people.

The Macabbean Revolt is another example in history of the believing community rallying together and standing up for the preservation of their faith (1-4 Macabbees).

The Passover was a day when Israelites doorposts were covered with blood so that the death angel would "passover" their home. This day was a rallying together of believers through symbol as well as highlighting the necessity of Jesus' blood for communal health, life, and salvation (Exodus 12:7).

The command of Moses to place the law upon the doorpost of their homes was another symbol of the believing community identifying themselves as believers to others and making that territory BETFC positive space, welcoming God of the Bible and bringing a blessing upon the future generations (Deuteronomy 6:9;11:20).

While Jesus did not form a rights campaign, he excercized his freedom of speech contrary to the opposition of many of the Religious officials of his day and empowered believers with the right and freedom to share their faith. Regardless of the code set against the believers, Jesus and his followers rallied the community together and empowered them to share the gospel of Jesus Christ.

While the BETFC community does not depend upon the secular codes to believe and practice Christianity, there is nothing unbiblically with making use of laws that favour the rights and freedoms of Christians and rallying the Christian community.
---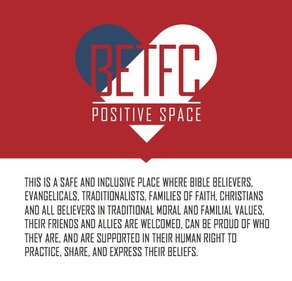 How can I be a part of the Christian Positive Space Campaign?
You can help by learning about the Campaign and putting up a sticker or a poster to show your support. For more information, stickers and brochures, click
Christian Positive Space
.
Each city and supporting church will have its own
Christian Positive Space
committee
working to advance the goals of the campaign and to address the particular needs of that area. Everyone who supports this campaign is welcome to be part of these committees. For information on the Toronto Christian Positive Space Committee,
click here
.
---