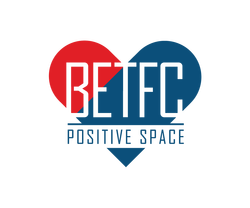 About the Stickers

The sticker is the key indicator of the campaign, along with a variety of posters. If you do not see a heart sticker in a room or office, don't assume that the occupants have negative views regarding those in the BETFC community or their allies. Some may not have heard of Christian Positive Space, or may not be permitted to post stickers on solid surfaces in their offices and spaces. Some may not be in the habit of putting up stickers.
The heart logo combines a symbol and colours common in the BETFC community. The Red symbolizes the blood of Jesus shed for all humanity. It also represents the millions who have died for the cause of Christianity, its values, the Bible, and speaking out for their faith. The white represents holiness, repentance and truth. The blue represents the royalty and sovereign nature of the kingdom of God and its values coming down to earth. The heart represents True love which comes from God, a love that only he gives and only he represents. This heart shows how in God's holiness, he still gave his Son to die for the sins of all humanity. Through repentance and embrace of Christ, his love can be embraced. Love is found in truth and forgiveness. This campaign is a reestablishment of True love that is rooted and grounded in God's holy character and forgiveness available to all in Jesus.
Whether you are a Bible Believer, Evangelical, Traditionalist, Families of Faith, Christian, or allies of the CHristian Community, putting a Christian Positive Space sticker on the door of your office, on your computer, business, notebook, bulletin board, apartment, car, means that you are contributing to the creation of an environment that welcomes people of traditional values. It suggests that you are ready to respond favourably to those who are becoming marginalized because of their Christian faith and their traditional values. It also suggests that you are prepared to challenge discriminatory language and stereotypical talk, even if said in jest.
Want to get involved?
Interested in displaying a Christian Positive Space sticker or poster?
Contact us
- we can get you some stickers and posters and more information!
---